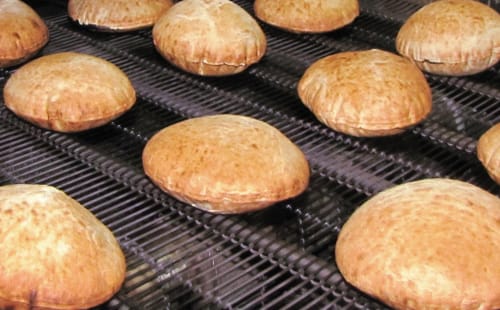 In January 1972, a young man named Abuid (Albert) Sam was ordained a priest by the Episcopal Church in Rochester, NY, and was assigned to St. Patrick's Episcopal Church in Cheektowaga, New York.
As you may imagine, being a priest and raising a family can present many challenges. In order to shift focus, Father Sam turned to baking bread in his kitchen. The recipe he used for the bread was handed down through generations of his family, making it thousands of years old.
Father Sam began sharing his family's bread with his parishioners at church dinners and during the holiday seasons. He was eventually able to use the bread in Holy Communion after receiving permission from the Bishop of the Diocese. Two close friends of Father Sam's, Jerry and Dorothy Stahlnecker, pointed out the popularity of the product and convinced Father Sam to look into producing the bread for sale to the public.
After an extensive search for equipment to produce the bread on a larger scale, the right combination of mixers, dough dividers and ovens was brought to Western New York. With the help of family and close friends, Father Sam's Bakery began selling bread in July of 1977. Tops Markets, a popular retail grocer in Western New York, was the first retailer to sign on to carry Father Sam's products.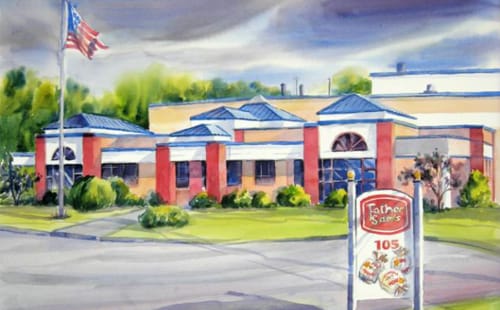 As demand for the bread grew, so did the bakery. What started in a converted garage soon moved to the world-famous Wurlitzer Building in Tonawanda, NY. After many years of continued growth in Tonawanda, Father Sam's built its own state-of-the-art baking facility in Buffalo, NY, moving to the new location in 1996. The bakery has remained there to this day. With this expansion, Father Sam's also added a complete line of tortillas and wraps.
Father Sam, along with his family and Glenn Povitz, grew the once small garage bakery to one of the premier flatbread bakeries on the East Coast. In 2012, the bakery began its transition to the third generation. Father Sam, along with his son and current president William and his wife Sherry, and partner, Glenn are now mentoring several younger members of the Sam family in the day-to-day operation of the bakery.
Father Sam is still involved in the bakery today, although much of his time is devoted to his ministry as an Episcopal Priest in the suburbs of Buffalo.